Note: The stuff written here is very old and my goals and ambitions have since changed. I can't be bothered keeping a neat first post anymore as I have portfolios floating around elsewhere now that I keep updated.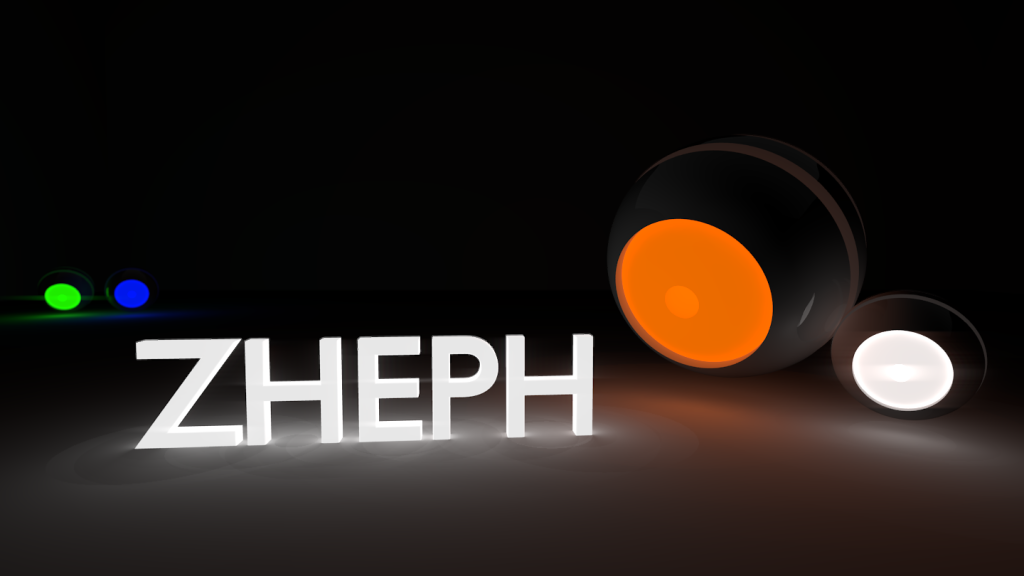 Greetings! I'll start by mentioning that recently I became adamant that what I truly want to do for a living is to be a CG artist, working in either gaming, film and television or advertising (gaming, preferably, which I'm currently working towards).
The story:
I accidentally got into 3D modeling last year when a group of my friends invited me to start up a team to create games using the open source 3D software: Blender.
We were all beginner's at the program and all aspects of it, so we decided we would choose who wanted to do which part of the game. There was the modeling and programming, while the group was led by the ever so confident and organised Angus.
Prior to that I was interested in becoming a programmer for games, so I chose to do that. But first I needed to get my head around Blender.
So over the weekend we all went home and fiddled with Blender, and on Monday I brought to school a high poly human model, water using an animated normal map which animated in real time, and a floor tile which used a bump map and tiling textures. They decided to make me the head modeler, and I wasn't complaining. I was loving modeling with Blender. I had previously been in a half year 3DS Max course, and could not for the life of me figure out how to use the program. It felt impractical and confusing.
Over the last year I've learned many techniques and tricks to modeling, but had never completed a full project. What you see above is, while very simple, my first fully completed project.
The aim of this thread is to provide me motivation to continue updating it with new things I create.
All these things will be available for all other artists at Stellar Dawn Central to use in creating signatures, avatars, backgrounds, you name it.
At the moment I am working on my own projects to implement the various techniques I've learned into completed scenes and models, as well as following tutorials to learn new techniques, but I will post all my completed work here, and anyone can request a certain camera angle, colour change or whatever (as long as it's simple) to the model/scene for use in whatever you like.
After a while I'd like to start taking requests from people for what they want me to make them, and for all the 2D artists on these forums, I think it would be great if you made concept art which I could work off.
If you want I can post WIPs and screendumps for those interested in how it's made.
Once again, feel free to request varying colour schemes for anything I make.
Here is the setup for the scene: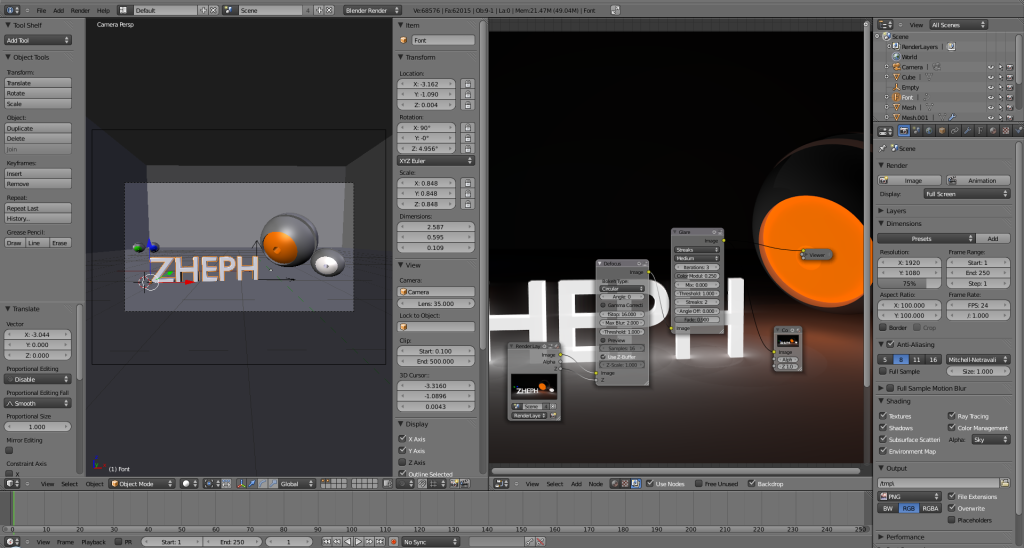 Camera view is on the left, while compositing nodes are on the right.
I used an empty which you can see on the end of the "H" (has arrows pointing along the y, z and x axis) to assign as the focus point for the DOF (depth of field). There is a defocus node on the right, which uses the DOF empty to, well, create depth of field (blurs out what's not in focus). Then it's put through a glare node which gives the streaks of light you can see coming off the brightest lights.
Here is a grassy plane I worked on for the day: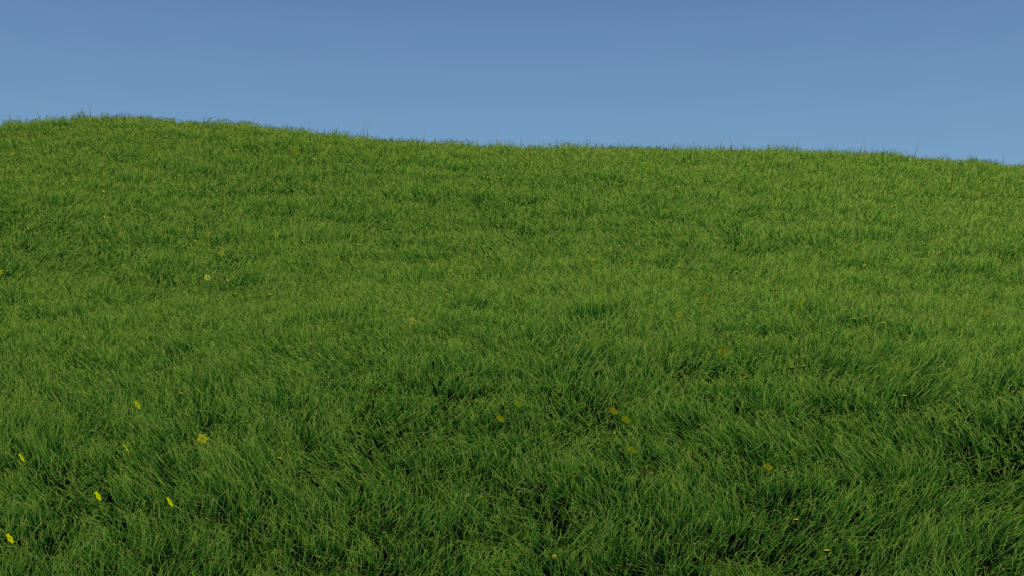 When I took a photo with my phone of the screen, I got this result: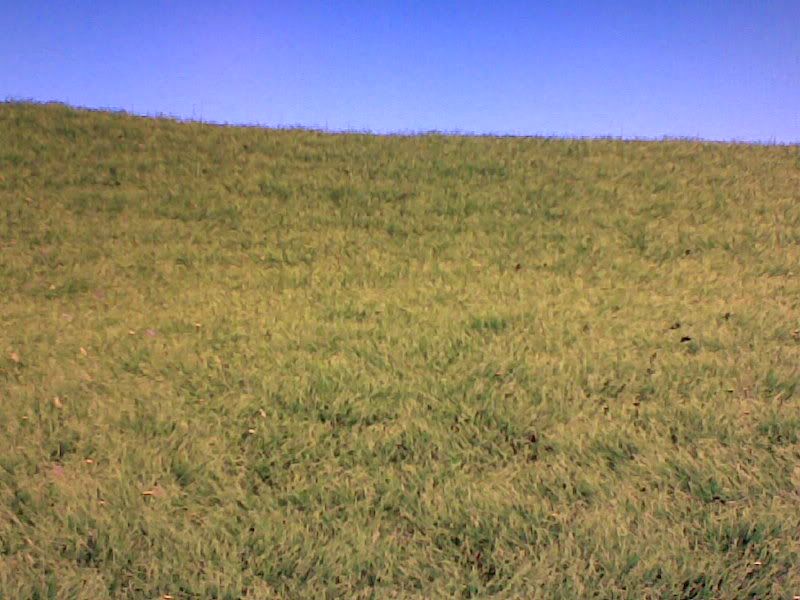 I feel it added to the realism and the imperfection of the shot, although it did make everything look a little dead.
The 3D version of the grass image was here before, but since it didn't seem to work for everyone, I decided to take it down.
On page 3 I posted some renders of an atomic explosion. It was very basic and undetailed, so I didn't put them here.
Here is my current progress through the Blender Cookie 2010 training series: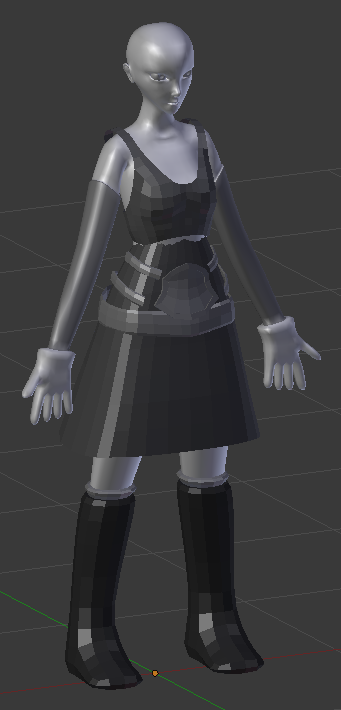 Here's a fire simulation I did:
A quick water test:
Not much to say about this one... Just felt like making it: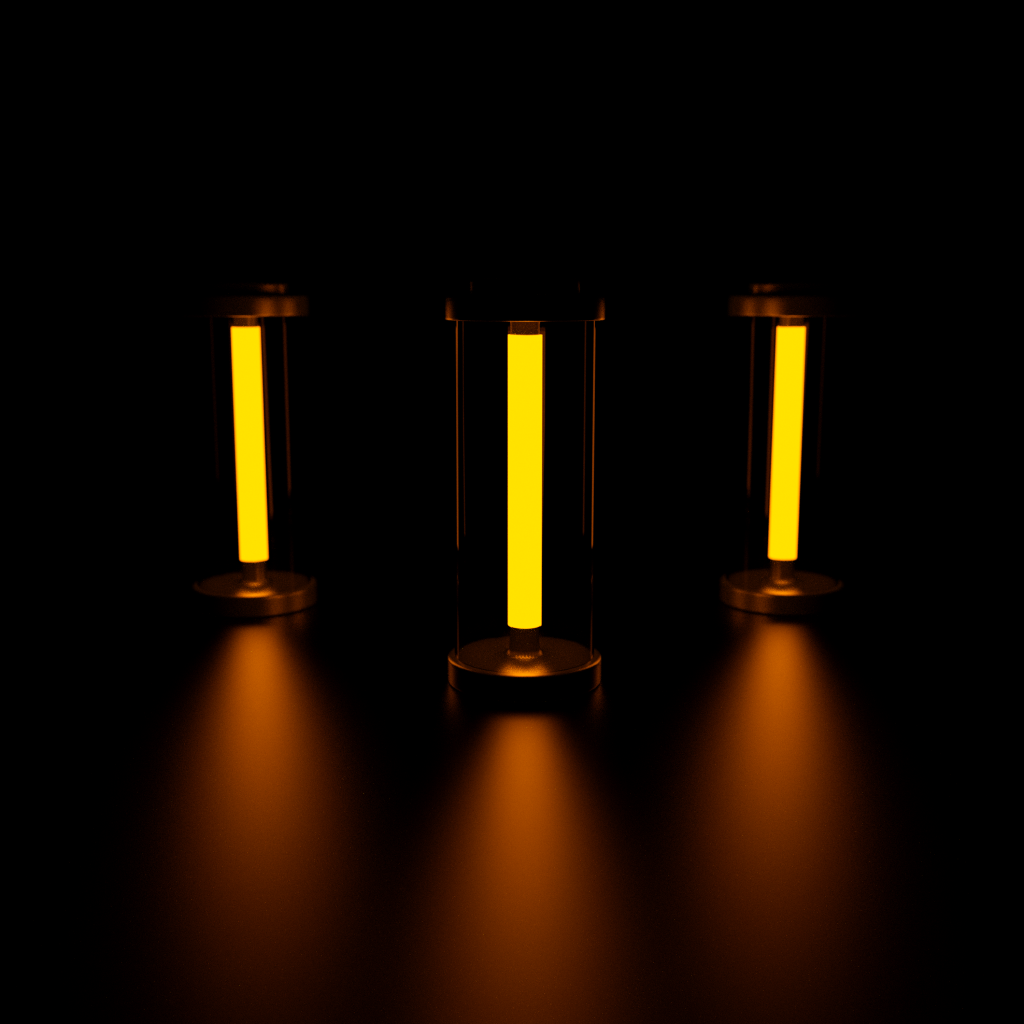 I did a physically accurate render of the first image in this post just for fun (although I don't think it looks as good, and there is no post-processing):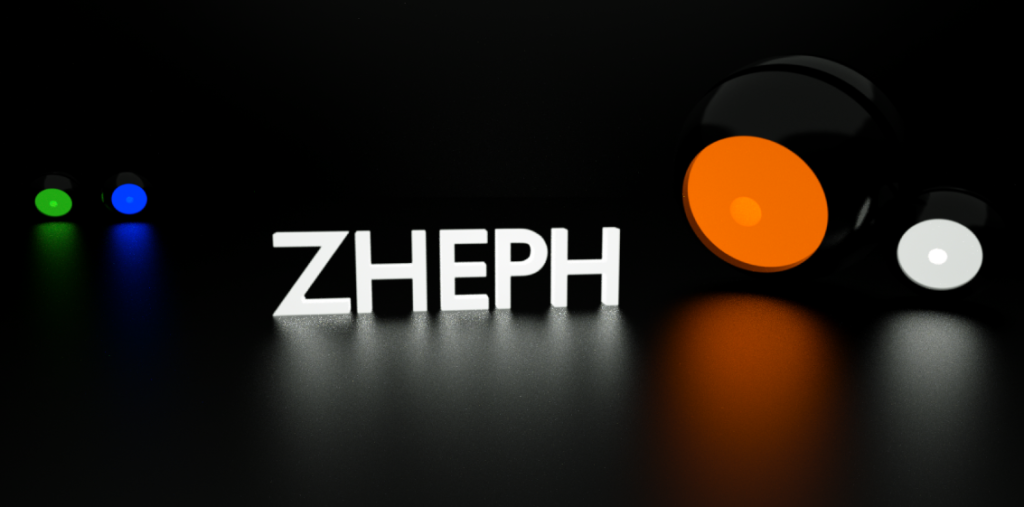 After making the first one, my sister suggested I make an hourglass with the same look. So I present to you the glow in the dark hourglass!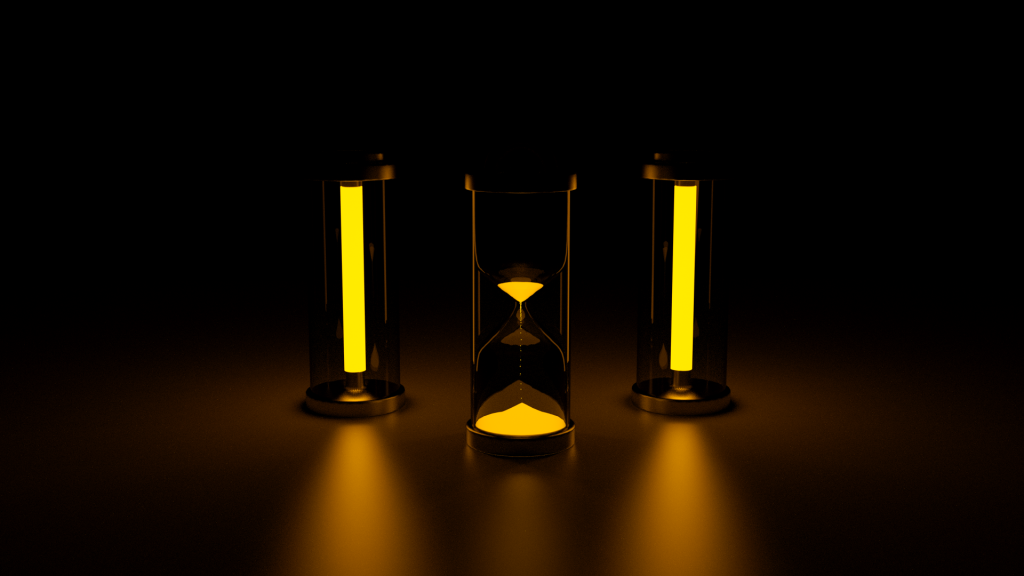 It was originally going to be the hourglass on its own, before I realised that there was nothing to light the hourglass itself, so I threw in the lights from my scene before.
Full version (1920x1080):
http://www.refractiv...=5948&mode=view
Some lights my Mum bought:
A designer chair rendered with a studio setup: